Training - Tutorial
---
The tutorial is an animated Power point Presentation that gives an overview and shows how to use FRAMES software.
Download the self executing zip file to your computer. Then open the downloaded file to view the tutorial. Select the 1_FRAMES introduction file to begin FRAMES tutorial.
See the Getting Started section for a nonanimated version of tutorial.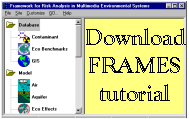 ---